LEGO SERIOUS PLAY: Experience-based vs Solution-based
What is LEGO® SERIOUS PLAY®
LEGO® Serious Play® (LSP) is an approach in which learners use a variety of LEGO® bricks as mediating artifacts to build metaphorical toy models that represent abstract concepts and ambiguous ideas. Everyone builds, everyone shares, everyone is allowed to ask questions and make reflections on the models. Its process, structure and techniques are designed to engage people in thinking and facilitating communication in generating insights for problem solving and strategy formation.
Through hands-on and minds-on interactive activities, learners share meanings about the LEGO® models they built. LSP enables participants to totally participate, share their values, mindfully learn, give full attention, appreciate differences and develop a sense of connection to each other's thoughts and stories. Learning will be emotionally connected, therefore the process can deepen learning reflection, open the participants' minds to possibilities, appreciate diversities, and strengthen resulting commitments.
Solution-based Approach
Integral uses LEGO® SERIOUS PLAY®(LSP) methodology widely in the program design targeting creative thinking, strategic planning, team alignment, change management, problem solving, stakeholder management and communication.
Rather than using LSP as just an experience-based, fun activity for the team, we use LSP as a solution-based methodology in our program design to achieve defined learning outcomes. There are no LSP standard programs or off-the-shelf programs. LSP is a facilitation technique without any pre-defined content. It is a structural process and language that can help real groups address real challenges in real time. We highly respect the authentic LSP methodology developed by experts with over many years of proven results. All our LSP-based programs are designed and facilitated by Certified LSP Facilitators, who are directly accredited from the founding master trainers. We strictly follow the original LSP Application Techniques and principles in ourlearning solution design and facilitation.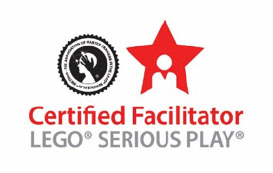 Here is Integral perspective on LEGO® SERIOUS PLAY®:
 
Experience-based LSP
Solution-based LSP
Learning Purpose
Through sharing of individual experience and feelings directly from the activity, so that trainer can debrief the findings and build on more knowledge
Through facilitating a series of structured dialogic activities tounlock people's mind, unleash individual tacit knowledge and generate collective insights from the team
Design

Focus

Activity Level Design: Short LSP activities are played without strong linkage to each other in the program design
System Level Design: The design logic of the LSP activities is strongly interconnected with other parts of the program design to create a total learning experience
Theoretical Principles
Adult Learning, Experiential Learning, Social learning
Constructivism, Constructionism, Object-mediated Communication, Consciousness, Hand-mind Connection, Flow, Materiality
Application Areas

 

Suitable for instructional design activities in training programs or short energizers, e.g.Team building, Communication, Problem Solving, Customer Service, Leadership, Creative Thinking.
Suitable for Dialogic OD Facilitation: e.g. Strategic Planning, Future Search, Team Alignment, Organizational Identity, Culture Change, Complex Problem-Solving, Design Thinking

Suitable for generative learning with a focus on mindset shift: e.g. Change Management, Leadership, Stakeholder Management, Organizational Innovation.
References
Association of Master Trainers in the LEGO SERIOUS PLAY Method. (2018).  Definition of LEGO SERIOUS PLAY Method. Retrieved from https://seriousplay.training/lego-serious-play/
Executive Discovery. (2002). The science of LEGO® SERIOUS PLAY®.  Enfield, CT: Executive Discovery LLC.
Frick, E., Tardini, S., &Cantoni, L. (2013). White paper on LEGO® SERIOUS PLAY®: A state of the art of its applications in Europe. Retrieved from http://www.academia.edu/4719724/White_Paper_on_LEGO_SERIOUS_PLAY_A_state_of_the_art_of_its_applications_in_Europe
Johri, A. (2011). The socio-materiality of learning practices and implications for the field of learning technology. Research in Learning Technology, 19(3).
Kristiansen, P., & Rasmussen, R. (2014). Building a better business using the LEGO® Serious Play® method.  Hoboken, NJ: John Wiley & Sons.
LEGO Foundation. (2017). A white paper on learning through play: A review of the evidence. Retrieved from https://www.legofoundation.com/en/learn-how/knowledge-base/learning-through-play-a-review-of-the-evidence/
McCusker, S. (2014). Lego®, seriously: Thinking through building. International Journal of Knowledge, Innovation and Entrepreneurship, 2(1), 27-37.
Roos, J. (2006). Thinking from within: A hands-on strategy practice. New York, NY: Palgrave Macmillan.
Winnicott, D. W. (1971). Playing and reality. London, UK: Tavistock.